Wait, What? Grover Norquist Thinks Sen. Scott Brown Looks Great In A Bathing Suit?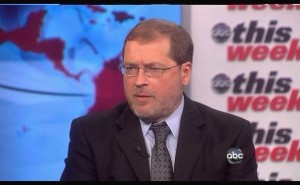 President of Americans for Tax Reform, Grover Norquist may have just revealed another way to win his support that might be less politically painful than having to sign his taxpayer protection pledge. All you have to do is look great in a bathing suit! During his appearance on ABC's This Week, Norquist suggested Republicans will take back control of the Senate in 2012 because all of the open seats will either be in Red states or because Massachusetts Senator Scott Brown and his bathing suit will be running for re-election.
After insisting President Obama realized the only way he would have a chance of winning re-election is to stop over-spending, Norquist then turned his attention to the Senate:
"Republicans are going to take the Senate in 2012, if you look at the 23 Democrat seats, half of them in reddish states. And ten Republican Senate seats up, all in reasonably Republican states, with the possible exception of Massachusetts, and [Scott Brown has] got ten million dollars in the bank and looks great in a bathing suit."
Given Brown's history of posing for a magazine in his birthday suit, it seems as if Norquist may have Brown's suits confused. Regardless, during this intellectual debate between Paul Krugman and George Will, Norquist's mention of how great he thinks Brown looks (without even the qualification of attributing such sentiment to "the voters") was such a random observation that no one else on the roundtable even acknowledged his mentioning of it. Therefore let this be a lesson to all Republicans, if you're out of shape and don't want Norquist harassing you about taxes, then either sign his pledge or hit the gym before the next beach season!
Watch the clip from ABC below:

Have a tip we should know? [email protected]