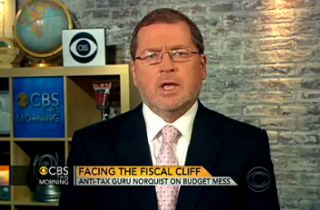 During an interview with CBS This Morning, anti-tax activist Grover Norquist said that President Barack Obama won his re-election campaign by effectively painting GOP challenger Mitt Romney as a… "poopy head."
Asked by host Norah O'Donnell why conservatives like Norquist are seemingly refusing to change their hardline stance on not raising taxes, the Americans for Tax Reform founder replied that last week's election proved that higher taxes are not a popular idea, citing the House of Representatives staying solidly Republican, with a commitment to low taxes. He also noted that President Obama's campaign itself never seemed to focus on raising any taxes:
The president was elected on the basis that he was not Romney and that Romney was a poopy-head and you should vote against Romney. [Obama] won by two points, but he didn't make the case for higher taxes and higher spending. He kind of sounded like the opposite.
Seemingly taken aback by the scatological terminology, O'Donnell pushed back at Norquist:
I'm not sure that's what the president called Mitt Romney. That's not the debate. The debate that was had — and I listened slowly to it — he said very clearly throughout the debate that the wealthiest Americans should pay more and he won eight of the nine battleground states and Republicans failed to reclaim the White House or the Senate. What about the exit polls that show a broad support for raising taxes on the wealthiest Americans. You're wrong?
Norquest responded that polls show 63% of Americans are against raising taxes to pay down the national debt.
Watch below, via CBS:

[h/t TPM]
— —
>> Follow Andrew Kirell (@AndrewKirell) on Twitter
Have a tip we should know? tips@mediaite.com