Grover Norquist: Voting For Fiscal Cliff Compromise 'Technically Not A Violation Of The Pledge'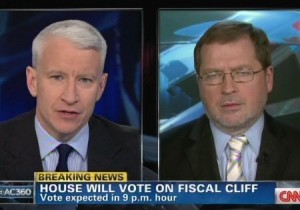 After weeks of deliberations and public clashes and attempted compromise, the fiscal cliff situation is still an ongoing battle in Congress. On CNN tonight, Anderson Cooper brought on anti-tax lobbyist Grover Norquist to explain his surprising support of the compromise worked out in the Senate that will be voted on tonight in the Republican-led House. Norquist, the author of an anti-tax pledge that has been signed by many Republicans in Congress, admitted that technically, the compromise would not violate the pledge and Republicans could vote for it in good faith.
RELATED: Rep. Eric Cantor On Senate-Passed Fiscal Cliff Deal: 'I Do Not Support The Bill'
Norquist allowed that strictly speaking, by not definitively acting last night and letting the Bush tax cuts expire, the Republicans can go back and push tax cuts through the House, in which case "technically they've not violated the pledge." He insisted that the pledge is ultimately for a politician's constituents and not to him, predicting that for any Republican to not be vilified for voting for a compromise bill, they need to be able to look their constituents in the eyes and honestly swear that they tried to fight "any and all tax increases."
Cooper asked Norquist why "compromise" is considered a bad word to many Republicans, when that's how most work in Congress gets done in the first place. Norquist said that unlike in the past, when the only difference between the two parties on government growth was on the magnitude of the growth, there is now a political party with a stated goal of reducing the size of government. He clarified that it is possible for Republicans to compromise in the name of liberty, but the compromise offered by the Democrats isn't anywhere close to it.
Cooper brought up military spending, to which Norquist agreed that the GOP needs to look at the Pentagon budget with a fine-toothed comb, quipping that we should still at least have a military strong enough to beat back a potential Canadian invasion.
Watch the video below, courtesy of CNN:
—–
Follow Josh Feldman on Twitter: @feldmaniac
Have a tip we should know? tips@mediaite.com
Josh Feldman - Senior Editor