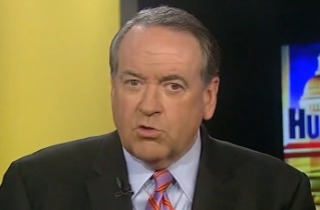 Mike Huckabee is very passionate about the gay marriage issue, and is particularly steamed with Republicans essentially giving up on the issue. It's not really that big of an election-year issue, and the leader of the House Republicans is helping raise money for an openly gay Republican candidate. To Huckabee, all this represents a Republican surrender on the gay marriage issue. A few days ago he actually threatened to leave his own party if they don't start fighting back against gay marriage more, and on his Fox News show this past weekend, he really went after the GOP for backing down on this social issue just because the political winds might not be in their favor.
Huckabee went off on "judicial tyranny" and minorities supposedly attempting to "veto" the rights of the majority, in reaction to recent Supreme Court action that led to gay marriage becoming legal in a number of states.
But what stunned him most was the lack of outrage and/or resigned signs from Republicans on the matter. Huckabee insisted his point isn't just about gay marriage, it's about the "surrender" of any American to the whims of unelected jurists.
And that's when Huckabee targeted his own party:
"I'm utterly disgusted with fellow Republicans who want to walk away from the issue of judicial supremacy just because it's not politically viable. Here's my advice: grow a spine. Show a modicum of knowledge about the way we govern ourselves, and lead, follow, or get the heck out of the way."
Watch the video below, via Fox News:
[h/t Raw Story]
[image via screengrab]
— —
Follow Josh Feldman on Twitter: @feldmaniac
Have a tip we should know? tips@mediaite.com
Josh Feldman - Senior Editor