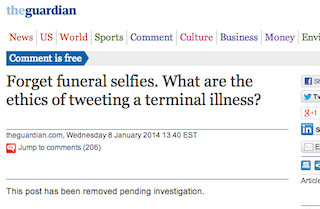 Following a swarm of criticism over Emma Keller's recent op-ed piece, in which she wrote about Lisa Adams, a stage four breast cancer patient who has been meticulously tweeting details of her treatment, the Guardian took the column down on Monday. On Thursday morning, Guardian readers' editor Chris Elliott elaborated on the original column's mistakes and the reason for its removal.
"I don't think it is wrong to frame a question about how those with incurable illnesses use social media, but the Guardian was wrong in the way it went about it," Elliott wrote. He faulted the article for inaccuracies—both those made by the author and those introduced in the editing process—mischaracterizations of Adams' illness, and bounds overstepped in printing Adams' personal correspondence with Keller.
Elliott also took responsibility for the changing explanations over why the post was removed:
An email from Adams to a senior Guardian US editor on 11 January setting out some of her most serious complaints about the piece posted on our site was passed to me on Monday, 13 January. The article was taken down that day because I felt some space was required to allow reflection. I mislabelled the reason for the takedown in the footnote online as being that the article was in contravention of the Guardian's code of conduct. Within an hour I changed the footnote when I realised that the issue needed more consideration and that the writer had not had a proper opportunity to respond to an email. That error is entirely my responsibility.
Elliott added that the Guardian had offerred Adams space on the site for a fuller accounting of her story, but understand they're not her favorite humans right now. Until they resolve the issue with Adams, Elliott wrote, Keller's piece will remain absent from the site.
[h/t Guardian]
[Image via screengrab]
——
>> Follow Evan McMurry (@evanmcmurry) on Twitter
Have a tip we should know? tips@mediaite.com