Guess How Many Times Chris Cuomo and CNN Have Mentioned His Brother's Ethics Scandal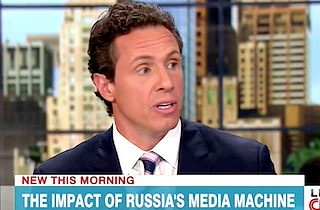 As corruption allegations against New York Gov. Andrew Cuomo (D) have heated up over the past week, CNN is conspicuously quiet on the matter. Of course, CNN also employs the governor's brother, Chris Cuomo, as host of its morning show New Day.
Family ties or coincidence?

Using TVEyes, a search for "Andrew Cuomo" and "New York Governor" across CNN's programming going back to July 18 — when the New York Times published its first significant article about the allegations — renders zero hits.
The Times breathed new life into the situation when it reported Monday on Cuomo's denial that he or his office had interfered with the investigations of an anti-corruption commission that he himself created.
Aides to Cuomo actually did, however, have contact with the commission, directing it not to investigate a New York real estate board with ties to Cuomo, according to a separate Times story.
Additional background on the commission via the Times:
Mr. Cuomo created the Moreland Commission in July 2013, saying he wanted to root out corruption and reform state laws that for decades have enabled it. But he abruptly shuttered the panel in March after striking a deal with legislative leaders that netted only modest reforms.
Both MSNBC and Fox News, as well as the Daily Show, have covered the story multiple times:
On July 23, MSNBC covered it twice.
On July 24, MSNBC covered it twice and the Daily Show did one segment on it.
On July 25, Fox News covered it once and the Daily Show did another segment on it.
On July 26, MSNBC covered it once.
On July 28, MSNBC covered it twice
On July 29, MSNBC covered it once.
On July 30, MSNBC covered it once.
Is CNN just ignoring the story or is there a blackout? Is it because the powerful Cuomo has a brother working as a lead anchor at CNN?
CNN viewers will recall that back in December, Chris interviewed his governor brother on air regarding a Metro train derailment.
We've reached out to CNN for comment, but have yet to hear back.
[Image via screengrab/CNN]
— —
>> Follow Eddie Scarry (@eScarry) on Twitter
This is an opinion piece. The views expressed in this article are those of just the author.