Top Kill Update: BP Will Know If Attempt Was Successful In 24 Hrs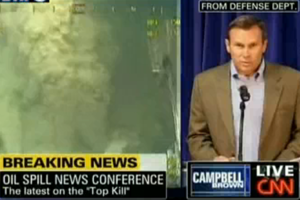 BP began working on their "Top Kill" plan to plug the giant oil well gushing into the Gulf of Mexico earlier today—a complex attempt to plug the hole with mud that is actually pretty well-explained here—and held a press conference earlier tonight with BP COO Doug Suttles to give an update on the situation. There was some good news: there are 65 barrels of mud going into the well per minute, and it should be another 24 hours before the well is plugged, if all goes well. Suttles admits, however, that BP really won't know if the efforts were successful or not until then.
Suttles, who is becoming somewhat of a cable news regular in light of this disaster, had this to say about the progress of Top Kill:
"The job has been proceeding according to plan, we started pumping operations at one o'clock this afternoon, we've pumped over 7,000 barrels of drilling mud so far, at varying rates, but up to 65 barrels per minute.

[…]

The next steps in this will be to continue to monitor the well. We may need to make a few new additional pumping operations, and ultimately we will finish the job by pumping cement at some point. We expect these activities to be complete sometime during the next 24 hours, but I stress that this could take longer… this does not bring the spill to an end by any means, there's still the clean up to do."
He then gave an update on the clean-up job, which includes skimming, and the situation ashore, where he says they have no found oil in Alabama, Mississippi, or Florida.
The full press conference below:

Have a tip we should know? tips@mediaite.com