Gun Advocate Larry Pratt Defends NRA Attack Ad: 'Spot On' In Proving Obama 'Hypocrisy'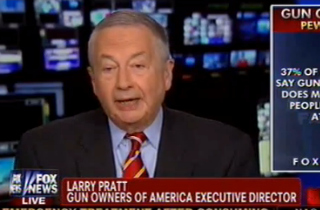 Gun Owners of America executive director Larry Pratt appeared on Fox's America's Newsroom this morning to defend the National Rifle Association's controversial new ad that calls President Obama an "elitist hypocrite" for sending his daughters to a school with armed guards while questioning the NRA's proposal to put more armed security in schools.
Pratt told host Martha MacCallum that the ad was "spot on," adding that it "points to the hypocrisy that we see so much from our ruling class, and it underscores the need that we've been pointing to that if we're going to get serious about protecting our children, we're going to do away with the 'gun free zone' requirements in federal law, which have created a magnet for these mass murders."
– RELATED: Piers Morgan To Gun Owners Of America's Larry Pratt: Try To Stick 'To Facts, Not Lies'
MacCallum then asked Pratt to defend the use of Obama's daughters to make a political point: "Can you understand at all sort of the reaction to this?" she asked. "Talking about the president's kids is sort of something that Americans, you know — respect the office of the presidency — and we have a long tradition of sort of not going there, not talking about the president's children, and certainly we all want to make sure that the president's children are protected by Secret Service. It's their right, and it's what we would expect," she added.
"It's what we would expect, but we also would expect the same for us," Pratt answered. "This is a democracy. This is a country where we are all equal before the law, and to have special privileges for others that wouldn't necessarily extend to us common people goes down a little hard."
After the pro-gun advocate praised Rep. Steve Stockman for threatening impeachment in the face of Obama's potential executive orders on gun control, he concluded, "This is a serious confrontation. The president seems to be convinced that the American people don't need to be able to protect themselves. It's okay if he has Secret Service, but forget the rest of us."
Watch below, via Fox:
— —
>> Follow Andrew Kirell (@AndrewKirell) on Twitter
Have a tip we should know? tips@mediaite.com