Gun Owner Blasts Newspaper For Publishing Personal Info: 'We've Done Nothing Wrong'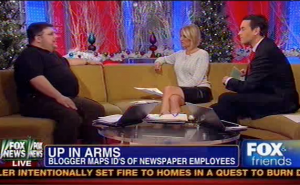 The Journal News, a New York newspaper, has been under fire after publishing the names and addresses of gun permit holders in several counties. On Thursday, David Triglianos, a resident in one of those counties who is both a gun owner and instructor, took to Fox & Friends to respond to the paper.
RELATED: New York Newspaper Under Fire After Publishing Names, Addresses Of Gun Permit Holders
"We've done nothing wrong," Triglianos said. "It puts us on the level of a sex offender…I haven't done anything to demonstrate I am a threat to the community."
As for the newspaper's response, which noted that all the information was acquired legally from public records, Triglianos wasn't convinced. "I understand that they can get the information," he said, "but that doesn't make it right. And the fact that, you know, they're justifying it with the massacre in Newtown, and is a horrible thing we all feel for — I don't understand how that makes us safer to know that your neighbor owns a handgun or is licensed to own a handgun."
However, Triglianos didn't support the idea of publishing the newspaper staff's personal information in response. "I don't know that that is helpful, to be honest," he said. What would you do with the information? Harass them? They're exercising their constitutional right just as gun owners are, he said.
Triglianos is a resident of Putnam, a county that is included in the paper's piece — but his information hasn't yet been published because the county is still processing the Freedom of Information Act requests from the paper. The other counties included in the piece are Westchester and Rockland.
Watch below, via Fox News:

Have a tip we should know? tips@mediaite.com