Gun Range Owner Talks With Fox News About James Holmes' Application: Had 'Bad Attitude'
Gun Range Owner On James Holmes' Application: Had 'Bad Attitude'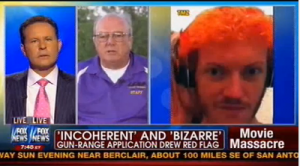 On Monday, Fox & Friends' Brian Kilmeade spoke with the gun range owner who had thought there was something "freakish" about suspected Colorado movie shooter James Holmes when the former medical student attempted to join his club.
RELATED: Gun Range Owner Says James Holmes Sounded 'Freakish' Over Phone
The gun range owner, Glenn Rotkovich, recalled that Holmes had asked about applying for membership on June 25th. When Rotkovich attempted to reach Holmes for a routine orientation, he said he got an answering machine with "a rather bizarre message on it that started me wondering a little bit about it." After three days with no response, Rotkovich flagged Holmes' application, letting his employees know that, if he calls back, he was not to be processed and that Rotkovich was to be notified.
After verifying the information he had received from Holmes with the description given on the news, Rotkovich had entertained the idea of calling Holmes' answering machine again to try and decipher his outgoing message a little better, but decided against calling him because Holmes' apartment was booby trapped and he didn't want to risk setting anything off.
Kilmeade asked if Rotkovich would have approved Holmes had he replied to his calls, and the owner responded that "I would tend to say probably not and only from the point of view that I've been dealing with people my whole life. And I get picked up pretty fast on somebody's attitude. And firearm safety and the things that happen are all based on one main thing, and that's attitude. And somebody with a bad attitude, it always shows up no matter what you do when you talk to him for any length of time, that attitude comes out and that was — that's the main decision factor, is attitude."
Have a look, via Fox News:
Have a tip we should know? tips@mediaite.com