Gun Violence Victims Don't Need 'Straight Talk' From Congress, They Need Straight Spines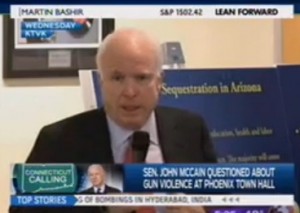 On Thursday afternoon's Martin Bashir Live, host Martin Bashir took umbrage at Senator John McCain's (R-AZ) response to a woman who lost her son in the Aurora theater mass shooting, a response that Bashir felt was disrespectful. Asked about the proposed ban on assault weapons and high-capacity magazines, McCain said to Caren Teves "I can tell you right now you need some straight talk. That assault weapons ban will not pass the Congress of the United States."
You could argue that the crowd, which lustily cheered McCain's response, was less-than-sensitive, at best, but Senator McCain was just copping out.
Bashir followed up the brief clip of McCain's answer (see more here) by observing that "Of course, that wasn't straight talk at all. Senator McCain was just parroting talking points from the gun lobby. But he might have shown a little more respect for a woman whose son's life was taken and, therefore, couldn't be there himself."
Mayors Against Illegal Guns' Mark Glaze defended Sen. McCain to some degree, pointing out that "the last time a controversial gun bill passed in the Senate, it was a McCain measure to close the gun show loophole," and that McCain "has actually said good things about expanding the background check system."
"He sounds as though he's regressing," Bashir said. "He doesn't sound very confident."
Glaze allowed that McCain may have been "talking about his political assessment that passing an assault weapons ban through the House and Senate may be hard to do. Which I think is just true."
Senator McCain's response may have been lacking in warmth, but the problem with his answer wasn't a lack of respect, or even a wrong position, since you don't have to take a position in order to declare a piece of legislation doomed. That's the point of, and the problem with, his answer.
Earlier in the segment, Bashir asked the truly relevant question: "Isn't it time we started standing up for the very people who, because they have been murdered, have no voice in this discussion?"
The answer is of course, we should, and that includes people who disagree on what path we should take to prevent another horrendous tragedy like the one that took Mrs. Teves' son. That doesn't mean speaking for them, but to them. Senator McCain may or may not be correct that an assault weapons ban will not pass this Congress, but there is only one way it cannot pass, and that's if people like Harry Reid, Mitch McConnell, and John Boehner refuse to allow a vote on it.
John McCain is a good man, and an influential symbol of honor in his party, in both parties, and even if he doesn't agree with the assault weapons ban, he should damn well want to look Mrs. Teves in the eye and vote on it, and he should fight anyone who tries to duck away from that vote. We can never know what's in the hearts of those who have been lost, but they deserve to know what is in ours.
Here's the clip, from Martin Bashir Live:
Have a tip we should know? tips@mediaite.com