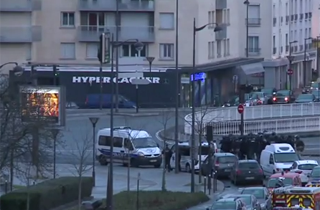 A second hostage situation is unfolding in a kosher market in Paris, just days after the Charlie Hebdo shootings.
"I heard a shot ring out and then the police arrived immediately on the scene," witness Eric Dadone-Vaillant told the LA Times. "I saw a man down on the ground."
Few details are confirmed at the time, but the shootings are simultaneously occurring while police have cornered Cherif and Said Kouachi, the brothers suspected of massacring the staff of a satirical magazine and killing a French policeman, in a village 25 miles away. The brothers are reportedly holding a hostage.
UPDATE — 8:39 a.m. ET: Authorities released information on two people: a male, Amedy Coulibaly, and his girlfriend, Hayat Boumeddiene. It is unconfirmed whether they are the two holding the hostages in the kosher market, but they are suspected in the shooting of a French policewoman last night and sources confirmed to CNN that they were affliated with the Kouachi brothers via an "Iraqi connection."
UPDATE — 9:05 a.m. ET: Here's what we know so far, via CNN:
UPDATE — 10:40 a.m. ET: The AP is reporting that the gunman has threatened to kill the five hostages left in the supermarket if the police launch an assault against the Kourachi brothers. A source told them that the two hostage situations are "clearly linked."
UPDATE — 11:15 a.m. ET: CNN is reporting "at least two dozen gunshots" from automatic weapons and a series of larger explosions, likely from flashbang grenades, at the scene. Video below:
UPDATE — 11:38 a.m. ET: AFP reporter Stephanie Beauge tweeted the following:
Several hostages freed at Jewish supermarket in Paris. Photo Thomas Samson #AFP pic.twitter.com/993wruADyt

— Stephanie Beauge (@sbeaugeAFP) January 9, 2015
CNN also reports that police shouted "get down!" and "we've got him."
UPDATE — 11:49 a.m. ET:
#BREAKING: French ambassador to the U.S. confirms that the hostages at the kosher supermarket are safe, gunman is dead. #CharlieHebdo

— Andrew Peng (@TheAPJournalist) January 9, 2015
UPDATE — 12:13 p.m. ET: Le Monde is reporting that the shooter killed at the supermarket was Coulibaly. A police union official confirms to CNN that a second female hostage-taker, strongly suspected to be Hayat Boumeddiene, managed to escape the siege.
UPDATE — 12:29 p.m. ET: Multiple sources indicate that some of the hostages are dead, though the number is unclear.
Meanwhile, the AFP has footage of the raid itself, below:
[Image via screenshot]
—
>> Follow Tina Nguyen (@Tina_Nguyen) on Twitter
Have a tip we should know? [email protected]