Guns, Race and Cable News: How The George Zimmerman Trial Could Turn Into Fox vs. MSNBC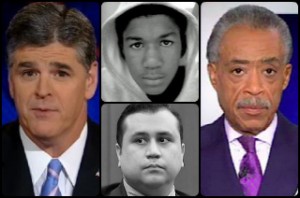 The State of Florida vs. George Zimmerman is poised to become the trial of the summer, a news story that, barring escalating revelations about how Americans have lost every last shred of privacy, will carry cable news through the long, hot months of a non-election year. And unlike the Jodi Arias murder trial, which hinged on sex and jealous rage, justice for the shooting of unarmed, 17-year-old black teenager Trayvon Martin actually has larger sociopolitical ramifications for the country.
The fundamental issues of guns and race should make the trial fascinating to watch play out on cable news, especially on Fox and MSNBC, which have been hinting at how some of their leading opinion-makers plan to cover the story since the killing first occurred early last year. CNN has entrusted much of its murder trial coverage to sister network HLN, with its star host Nancy Grace, who has taken a particular interest in the fate of female killers. HLN dominated in ratings anytime big Jodi Arias breaks happened, but given the political factors at play, the Zimmerman trial has the potential to set up Fox and MSNBC for large increases in viewership.
Let's take a look at how each network could make their play to own the George Zimmerman trial:
Fox News
As the perennial ratings leader in both the 25-54 demo and total viewers, Fox has a lot less incentive than any other network to shake up its formula and shift focus to any new story in a big way. The network appears to have benefited from covering the Obama Benghazi, IRS, AP, and NSA "scandals" more extensively than the other networks. As more appears to be going wrong for President Obama — at least in the eyes of Fox's opinion commentators — the more it will likely draw eyeballs to their network.
But if Fox does decide the cover the Zimmerman trial in any major way, we can expect their major opinion programming's sympathies to fall on the side of the defendant. The one host who will most assuredly take up George Zimmerman's cause will be Sean Hannity.
Hannity's relationship with Zimmerman dates back to April of last year, when the host revealed he had spoken to the suspect in an off-the-record phone conversation. Two months later, Zimmerman gave his first, exclusive television interview to Hannity, which you can watch below.
While some of Fox's news anchors, such as Megyn Kelly, have been more skeptical towards Zimmerman's case, given the fact that his defense could hinge on Florida's "Stand Your Ground" gun rights law, it would not be unexpected to see some of Fox's conservative commentators come down on Zimmerman's side.
MSNBC
After finishing the 4th place last month, MSNBC has a lot less to lose and whole lot more to gain by taking the Zimmerman trial on full bore and running with it. And with promos promising "complete coverage" starting June 10th, the network has clearly set its sights on doing just that.
In addition, an MSNBC spokesperson has confirmed:
"MSNBC will provide in-depth, continuing coverage of the trial of George Zimmerman beginning Monday, June 10. The network will cover the criminal proceedings live as news warrants during our regularly scheduled programs."
Just as the Obama "scandals" bolster Fox, they appear to be wreaking havoc on MSNBC. Both from a ratings and political standpoint, the network is likely looking for anything that can help them change the subject, easing the pressure on the president without abandoning their "Place For Politics" progressive brand and embracing full-on storm-coverage like CNN. It is notable how MSNBC might have been in a much better place, ratings-wise, when gun control was the big issue on everyone's minds.
If Hannity is leading the charge for Fox, it's all about Al Sharpton on MSNBC. The host had back-to-back interviews with Zimmerman's lawyer and the attorney for the Martin family last week. And judging from the heartfelt, empathetic conversation Sharpton had with Trayvon's mother Sybrina Fulton on his show last night, as shown below, we can expect him speak out for the victim throughout his coverage of the case.
The story of George Zimmerman and Trayvon Martin is a complicated one, and with only one of the two men alive today to tell his side, it seems impossible that even after the trial is over we will ever know exactly what happened that night. But because the issues of guns and race are so embedded into the story it has the potential to create a perfect storm for cable news to take sides and make it about much more than a deadly altercation between two individuals.
It will be enlightening to watch just how the fortunes of Fox and MSNBC shift as the trial gets underway next week, and how each network's coverage shapes, or is shaped by, public opinion of the case. If George Zimmerman's chances of acquittal start to look favorable, will Fox's primetime programming dedicate more airtime to the trial? And if America gets behind Trayvon Martin and turns against Zimmerman, could that mean a comeback for MSNBC?
—
>> Follow Matt Wilstein (@TheMattWilstein) on Twitter
Have a tip we should know? tips@mediaite.com