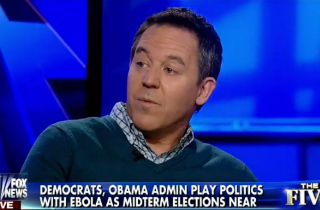 While pointing out the futility in assigning political blame for a human tragedy like the Ebola virus, Fox host Greg Gutfeld took another jab at his colleague Dr. Keith Ablow, who has repeatedly implied that President Barack Obama does not want to fight Ebola in the U.S. because of his "hatred" for his own country.
Reacting on Thursday's episode of The Five to the various pro-Democratic ads that have tied the GOP's cuts to the CDC to the mismanaged Ebola response, Gutfeld declared: "Politics is a human issue, it is not a political issue, but, unfortunately, we live in a time and we work in an atmosphere where politics is sport."
He continued:
Politics rarely makes anything better. It tends to clog up common sense; it clouds the truth. We know that it's not about cuts, it's about spending. If you increase spending, you still have no faith that that money is ever going to go to where it's going to go.
And then as if to punctuate his point about laying political blame on people for a disease, Gutfeld suggested: "I don't know. I blame Dr. Keith Ablow. You can't spell Keith Ablow without Ebola."
For those not familiar with Ablow's wonderful repertoire of quackery, the "Fox Medical A-Team" member has taken to suggesting that President Obama wants Americans to suffer from Ebola because of his own "affinities" with Africa and his "hatred" of the colonial U.S.
Noticing Ablow's embarrassing trend, the Fox host has taken to bashing him once before on The Five.
"The consequences of political ideology are everywhere," he lamented this time.
Watch below, via Fox:
— —
>> Follow Andrew Kirell (@AndrewKirell) on Twitter
Have a tip we should know? tips@mediaite.com