Guthrie to Cruz: Would You Let Clerks Deny Interracial Couples Marriage Licenses?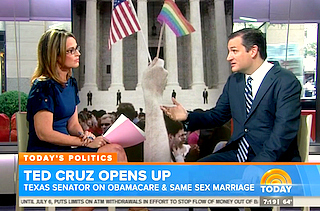 Today host Savannah Guthrie asked Senator and 2016 candidate Ted Cruz (R-TX) Monday morning whether he would tell probate judges to deny marriage licenses to interracial couples, as he has recommended they do to same-sex couples.
"Well, there's no religious backing for that," Cruz responded, though Guthrie pointed out that religious arguments had in fact been used against interracial marriage.
She then asked whether Cruz would have opposed the Supreme Court decision in Loving v. Virginia striking down bans on interracial marriage.
RELATED: Ted Cruz on Fox: Liberal Media Tries to Trap GOP Candidates with 'Sex' Questions
"Of course not," Cruz said. "We fought a bloody civil war over the original sin of our country, which was slavery. Slavery was grotesque and immoral and some 600,000 Americans spilled their blood on American soil and lost their lives to expunge it. We passed the 13th, 14th and 15th amendments to the Constitution, to ensure everyone has equal rights regardless of race. And that was honoring the promise of the Constitution." (The implication that a semi-apocalyptic civil war needs to be fought for people to gain rights is your own.)
Texas' Attorney General Ken Paxton has told state probate judges they may invoke a religious exemption to deny same-sex marriage licenses, all but certainly setting up a major legal battle over the implementation of the Supreme Court's ruling last Friday making marriage equality a constitutionally-protected right.
Cruz concluded by pivoting to his new book, like a pro.
Watch below, via NBC:
[Image via screengrab]
——
>> Follow Evan McMurry (@evanmcmurry) on Twitter Tod
Have a tip we should know? tips@mediaite.com