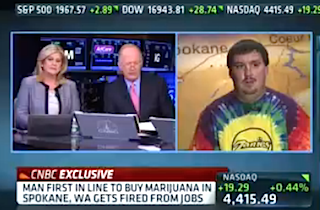 Earlier this week, we brought you the story of the Spokane, Washington man who lost his job after he was spotted on local television camping out to be the one of the first people to purchase legal recreational marijuana in that state. Today, Mike Boyer took his story to CNBC's Closing Bell, wearing his now-trademark tie-dye shirt and generally blowing the afternoon hosts' minds.
Asked why he decided to wait 19 hours in line to be the first to buy marijuana in Spokane, Boyer said, "It was a very historic day and I just wanted to make sure to be a part of it. I decided I wanted to be number one in line and I set a goal and I got there."
Boyer, who worked for Kodiak Security Services, explained that shortly after he made his purchase his bosses called him to say that a customer had seen him on TV and reported it. They said he had 24 hours to produce a clean urine sample or he would be fired.
The concept gave host Bill Griffeth pause. "Well that's my question," he said. "It's legal now, so if it's in your urine, can you be fired for that? What's that about?" As his co-host explained, even though the drug is legal, private companies can still ban their workers from using it.
Boyer said he doesn't blame his company for taking the action that they did and revealed that they had actually offered him his job back. He told them he needed some time to think about it and is currently searching for a new career.
"Did you hire an agent?" Griffeth asked. "Do you have bigger fish to fry now that you're a celebrity, is that it?"
He doesn't have an agent, but Boyer said he wants to "spend some of this publicity" and see what happens.
Watch video below, via CNBC:
[Photo via screengrab]
— —
>> Follow Matt Wilstein (@TheMattWilstein) on Twitter
Have a tip we should know? [email protected]