Hacker Who Turned In Source Of Secret WikiLeaks Documents Explains Damage Done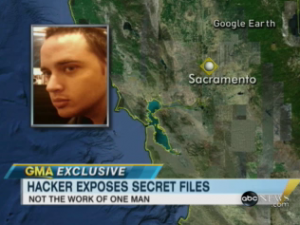 This morning on Good Morning America, George Stephanopoulos spoke with Adrian Lamo, the former computer hacker who was the one to turn in Pfc. Bradley Manning, the young military specialist who has been accused of leaking both information leaked on Sunday as well as the infamous "Collateral Murder" video from last April. Unsurprisingly, Lamo had some less than nice words for WikiLeaks. Also in the program, Stephanopoulos talked to Eric Schmitt from the New York Times who defended his paper's decision to publish some of the leaked material.
Lamo is a former computer hacker who is most famous for hacking into the internal computer system of (coincidentally enough) the New York Times. He had had numerous articles written about him and had reached a certain level of fame which led Manning to contact him. After Manning admitted the materials he had leaked to Lamo, the hacker decided to turn him in, a decision he has called "agonizing." While speaking to Stephanopoulos, Lamo decried the actions of WikiLeaks as "tremendously irresponsible."
From ABC News:
"Lamo echoed the Obama administration's claims that the leaked information could harm national security and put lives at risk.

'It has harmed what is most important to our intelligence community and that is our ability to trust the people we put out there to do critical and sensitive jobs,' Lamo told me.

'It's almost inconceivable to me that this could not result in harm to both security and actual real life people because it is easy to hear 'national security' and think that it is a…buzz word but at the end of the day it is about people,' Lamo said."
Schmitt pointed out that his newspaper had been praised by the White House for their care in redacting parts of the leaked information that might have been dangerous to our armed forces in the published articles as well as letting the government know ahead of time what they had. He also remarked that they had persuaded WikiLeaks' founder Julian Assange to be similarly careful and to hold some of the material. Still though, many will question the paper's decision in the coming days.
Watch the GMA interviews below, but first vote in our poll: Did the NY Times make the right decisions?
Have a tip we should know? tips@mediaite.com