Haley Barbour & Martin O'Malley Duke It Out Over Presidential Race, Obama's Economic Record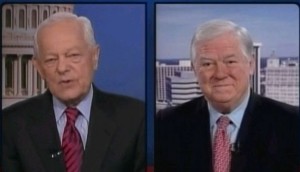 On Face the Nation today, Governors Haley Barbour and Martin O'Malley got into a heated discussion over the Republican presidential candidates and whether the upcoming election would be a referendum on the economic policies of President Obama or not.
Bob Schieffer asked Barbour why Republicans are so dissatisfied with the current Republican field of candidates. Barbour explained that the party wants to make sure they nominate someone who is going to be able to definitively win the presidency over Obama next year.
O'Malley retorted by suggesting that Barbour hadn't personally endorsed anyone yet because none of them have "inspired confidence" in the voters yet, and argued the race is now over who is going to be the nominee of the Tea Party instead of the Republican party. He cited steady job growth in the past few months as a sign of a slow but certain economic improvement.
Barbour encouraged the Democrats to make the election a referendum on the president's economic record, because it would ensure a Republican victory. O'Malley insisted the Republican economic plan was a "failed" one, and the voters would have to choose between it and the president's economic plan, which he argues has been much more successful. The Republican governor wondered if O'Malley had amnesia and didn't remember that the president had big Democratic majorities right out of the 2008 election and could have pushed forward an ambitious legislative agenda if he wanted to.
Watch the video below, courtesy of CBS:
Have a tip we should know? tips@mediaite.com
Josh Feldman - Senior Editor