Haley Barbour Takes On Andrea Mitchell In Contentious Battle Over Obama Vs. Romney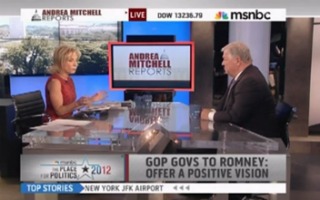 MSNBC anchor Andrea Mitchell conducted a contentious interview with former Mississippi Gov. Haley Barbour on Friday. Barbour insisted that the Obama campaign will not be about substance but will rely on surrogates have attacked Mitt Romney's on such issues as his Mormonism. Mitchell replied that his assertion was untrue and a debate about the statements of surrogates would be a "very dark tunnel to get into."

RELATED: NY Times Buries The Lede: Anderson Cooper's Ratings Surge At 8PM
Mitchell first asserted that President Obama's execution of American foreign policy has been a "big advantage," so "why shouldn't the bin Laden moment be his best argument? As [Vice President] Joe Biden said, Osama bin Laden is dead and General Motors is alive."
Barbour conceded that the killing of bin Laden represents an unequivocal success for Obama and the nation. However, "the idea that foreign policy is Obama's great streghnth I think actually makes another statement," Barbour said. "The economy is so bad, his energy policy is so failed, his heatlh care plan is so unpopular that of the four foreign policy looks pretty good."
"Well, you're trying to make a positive into a negative," countered Mitchell. She said that Romney is vulnerable on foreing policy and described Romney's having described Russia as America's greatest foes is a "throwback to the Cold War."
Barbour defended Romney on his Russia statement and outlined a litany of disagreements that have arisen between the United States and Russia over the course of Obama's first term in office. "If I were the Obama people, I would nto be trying to say, 'look at the great successes we've had in Iran, in Syria, in North Korea," said Barbour.
"Didn't Mitt Romney himself though question whether it was worth spending all that effort and money going after one man," asked Mitchell. "I don't know if he did or not," Barbour replied. Mitchell did not provide the precise quote to support that assertion.
Later in the interview, during a discussion on Obama's energy policy and his support for a "cap-and-trade" plan, Mitchell pointed out that Romney supported a similar plan as governor of Massachusetts. "You've got a candidate in Mitt Romney who had – at one point in his career, one or another points – supported a lot of the same things that Presidnet Obama did."
"I think we'll hash all that out as we go forward," said Barbour. He insisted that if the election remains a referendum on Presidnet Obama's record in office, that he would lose in November. "The Obama campaign will not be about policy," Barbour said.
"The Obama campaign will be about policy when it tries to challenge Mitt Romney's policies," Mitchell responded. "They're going to portray him as the Etch a Sketch candidate."
"That's not about policy," Barbour said. He listed the number of personal attacks that Mitt Romney has been targeted with including attacks on him for putting his dog on the roof of his car prior to a 12-hour trip and for being a Mormon.
Mitchell objected to the assertion that the Obama campaign has gone after Romney for being a Mormon, to which Barbour insisted that Obama surrogates have levied such attacks. "Governor, if you want to get into which surrogates or which supporters of the President or of Mitt Romney have said what, that's a very dark tunnel to get into," said Mitchell.
Watch the interview below via MSNBC:
Have a tip we should know? tips@mediaite.com