What's worse than wrapping paper covered in swastikas? Hannukah wrapping paper covered in swastikas.
The Hallmark corporation is apologizing this week for selling blue and white wrapping paper that features the Nazi symbol as part of its design.
See if you can spot the swastikas in the design below: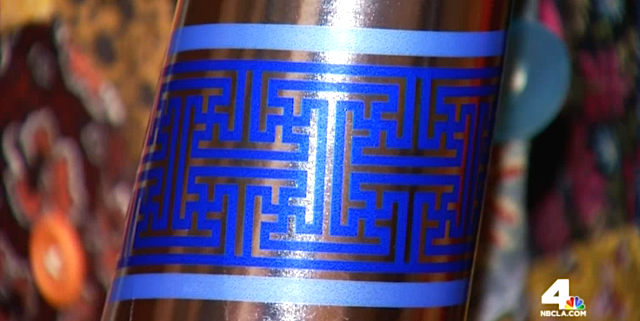 "We apologize for the oversight and apologize to anyone who was offended. That obviously was not our intent," Hallmark spokeswoman Julie Elliott told The Kansas City Star after Walgreen's customer first spotted the problem. "It was an oversight on our part to not notice the intersecting lines that could be seen as a swastika pattern."
Elliot added that the pattern was licensed by the company to be used in multiple different color combinations and was not intended to be sold exclusively as Hannukah paper. But it did reportedly appear in a Hannukah display in at least one California Walgreen's store. That company has since asked its retailers to stop selling the product.
But in a new twist, a group called Pro-Swastika, which aims to restore the original, non-Nazi meaning of the symbol, has put out a statement of its own asking for the product to be reinstated:
The swastika is still a holy symbol for billions of Hindus, Buddhists, Jains and Raelians… Long before it was unjustly hijacked by Hitler and the Nazis for ill purposes, it was revered for thousands of years as a religious symbol and a sign of good will. It can be found worldwide in architectural features and decorative ornamentation of all kinds, including in Jewish synagogues. It can even be found in many places in Israel.
Watch video below, via Fox 4 KC:
[Photo via screengrab]
— —
>> Follow Matt Wilstein (@TheMattWilstein) on Twitter
Have a tip we should know? tips@mediaite.com