Halperin on Bernie's NYDN Interview: Hillary Would Be 'Creamed' If She Gave Answers This Bad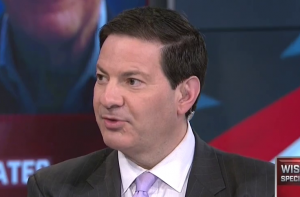 Bloomberg Politics' Mark Halperin called out the media for a "double standard" when it comes to Bernie Sanders Tuesday, arguing that his opponent Hillary Clinton would be "creamed" if she gave answers as bad as Sanders' in his New York Daily News editorial meeting.
MSNBC's daytime coverage of the Wisconsin primary was being headlined by the usual Morning Joe crew (Afternoon Joe perhaps?). "I'm looking at the highlights of this interview that Bernie Sanders did with the New York Daily News, and some of his answers were, let's just say, counter to what might do well in New York," host Mika Brzezinski began.
"Everyone interested in this race should read the interview," Halperin said. "Because his answers are not adequate. And I think he'll probably look at that and say they were inadequate."
Halperin said that in his own interview of Sanders, he also felt that his answers on economic topics were inadequate. "He's not as deep. For a guy who's been in public life for so long, he's talked about the same things over and over."
"The Clinton folks are emailing this around and around, and justifiably so," he said. "It is a giant double standard. If she gave answers like that, she would be creamed."
Halperin's Bloomberg co-host John Heilemann agreed with his assessment. "We did one interview with him that was all on more detailed questions on Wall Street and Wall Street regulation. He was weak then, and that was three months ago. He's still pretty weak in this interview."
Heilemann said that Sanders actually had a good grasp of the broad issues that needed to be addressed, but just couldn't articulate any details or explain how to fix them. "He did not have the level of depth that you would think for a signature campaign issue of his," he said.
"At the risk of alienating one hundred senators, there are many senators who have his level of policy depth," Halperin said. "But they're not running for president."
Watch above, via MSNBC.
[Image via screengrab]
——
>>Follow Alex Griswold (@HashtagGriswold) on Twitter
Have a tip we should know? tips@mediaite.com