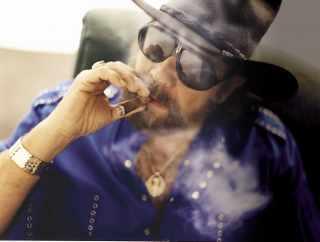 Oh, ESPN and Fox & Friends, you messed with the bull and now it's time for you to get the semi-coherent horns!
The Associated Press is reporting that spurned country singer Hank Williams, Jr. has recorded a new song that trashes the sports network and morning show as well as warning that the nation is becoming "The United Socialist States of America." Basically it sounds like we've got a perfect addition to the next Mediaite office karaoke night.
RELATED: SNL Takes On Fox And Friends And Hank Williams Jr.'s Hitler-Obama Comparison
In case you forgot, Williams created a mini media thunderstorm last week after he compared President Obama and John Boehner playing golf to "Hitler playing golf with Netanyahu" while on Fox & Friends. ESPN then cut him from the position he's held since 1989, singing the opening song to Monday Night Football. Apparently, Williams isn't thrilled.
From the Associated Press:
"Williams wrote the topical third verse of 'I'll Keep My …' when he woke up Friday morning and he and a group of players laid it down in a Nashville studio by Friday afternoon. It could be on iTunes late Monday or early Tuesday.

In the song Williams, son of country music icon Hank Williams, says 'Fox & Friends' hosts twisted his words: 'So Fox `n Friends wanna put me down/Ask for my opinion/Twist it all around.' He finishes the verse: 'Well two can play that gotcha game you'll see.'

Early in the song, he says the U.S. is 'going down the drain' and says it's becoming 'The United Socialist States of America.' He mentions keeping 'Fox & Friends' and ESPN out of your home toward the end of the song."
Now, that is how you deal with getting censored! You get a bunch of your rowdy friends in a recording studio and you throw together a pissed off country song. You don't write a boring book.
I'm looking at you, Juan Williams.
The song is set to arrive on iTunes later today or tomorrow.
Here's a video Williams posted to YouTube that promises a big announcement and appears to show him recording the new song:
Have a tip we should know? tips@mediaite.com