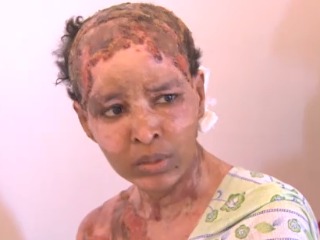 Shweyga Mullah, a former nanny working for the family of ousted Libyan leader Muammar Gaddafi, alleges that Aline Gaddafi — the wife of Muammar's son Hannibal Gaddafi — poured boiling water on her after Mullah refused to discipline and beat one of their children for misbehaving.
Hannibal and Aline escaped to Algeria, leaving an injured Mullah alone in their abandoned home. CNN journalists who discovered Mullah sitting alone in the empty building were told about the horrific treatment she endured while with the Gaddafi family:
"She took me to a bathroom. She tied my hands behind my back, and tied my feet," Mullah said at a Tripoli hospital where she was being treated after a guard secretly brought her in.

"She taped my mouth, and she started pouring the boiling water on my head like this," she said as she imitated a vessel being poured on her head. She was in terrible pain, although the burns had been inflicted three months ago. Her scalp and face were a mosaic of injuries that rendered her skin a grotesque patchwork.

She actually had boiling water poured on her twice, she said — once about six months ago and once about three months ago. Her chest, torso and legs are all mottled with scars — some old, some still red and weeping. After both times, Hannibal Gadhafi and his family interfered with medical treatment, so she did not receive much, she said.
Mullah also recounts that she was never given her due payment for her services as a nanny. She is now in Malta's Mater Dei Hospital, where she is being treated for her injuries by skin graft specialists. Mullah, who originally comes from Ethiopa, hopes to return home for recovery despite the Maltese government's offer of further medical treatment, asylum and even an education. Malta's Prime Minister, obviously very moved by Mullah's ordeal, says she offers additional visual proof of the terror inflicted by Gaddafi and his family on those in Libya.
Take a look at the report, courtesy of CNN:
Have a tip we should know? tips@mediaite.com