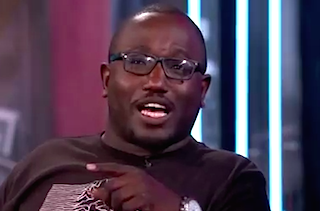 It's been just about five months since video of comedian Hannibal Buress calling Bill Cosby a "rapist" made its way around the internet and since then dozens of women have spoken out about the alleged incidents of sexual assault. During his appearance on Jimmy Kimmel Live last night, Buress gave an update on what it has felt like to be the unlikely catalyst for this major story.
"This Bill Cosby thing, you kind of get it started," Jimmy Kimmel told Buress. "You're the one that spoke about Bill and it snowballed and really put a crimp in his dating life."
"It's definitely a weird situation," Buress remarked, saying "the weirdest thing about getting a death threat from a male body-builder/stripper on Facebook is when you click on his profile and see that you have one mutual friend." He imagined how much effort a potential killer would have to go through in order to find him and decided it probably wasn't worth their while.
RELATED: Pajama-Clad Bill Cosby Breaks Silence with Bizarre Video Message to Fans
Buress also told Kimmel how "weird" it was to participate in the Justin Bieber roast this past week. "Snoop Dogg's thinking of mean shit to say to me right now," he thought to himself leading up to the event. He also found it strange to have to "say something about Martha Stewart's vagina right in front of her."
Thanks to Buress' presence, the roast contained more than its fair share of jokes about Bill Cosby, including this one that Buress himself told to the guest of honor: "Justin, I don't like your music. I think it's bad, man. I hate your music. I hate your music more than Bill Cosby hates my comedy."
Watch video below, via ABC:
[Photo via screengrab]
— —
>> Follow Matt Wilstein (@TheMattWilstein) on Twitter
Have a tip we should know? tips@mediaite.com