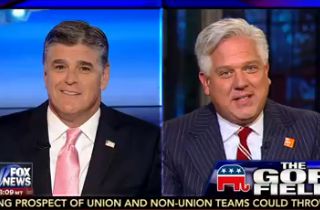 In the last few days, Glenn Beck and Sean Hannity have reached an impasse over how "smart conservatives" could support Donald Trump.
Last week, Beck posted on Facebook that he could not understand the support for Trump's lack of policy principles, and his alienating personality. On Monday, Hannity responded that Trump's anti-political-correctness and outsider attitude make him an "impressive" candidate.

And so Beck appeared tonight on Hannity, where he pressed the eponymous host for an answer about why Trump gets so much support despite his seemingly anti-Republican record.
Hannity argued that it doesn't matter what Trump has said about issues in the past when he presents "strength and conviction" that contrasts with his "weak and timid" competition. "Here's a guy that's been successful, loves the country, sees what both of us see: America in decline," Hannity said. "He is entering the political arena for the first time because he seriously wants to make the country a better place."
"He's not Barack Obama. He sees the nation the way you and I might see the nation," Beck responded, "but that doesn't necessarily mean I agree with his way of getting there."
While Beck continued to note his issues with Trump's character, he and Hannity agreed that Trump is creating a frenzy in the GOP, and that no single media figure can control him or the effect he'll have.
So basically: They agreed to disagree. Friendship was had.
Watch the segment here:
[image via screengrab]
— —
>> Follow Ken Meyer (@KenMeyer91) on Twitter
Have a tip we should know? tips@mediaite.com