Hannity And Coulter Tear Apart Immigration Bill: 'Republicans Are Suckers,' Using 'Silly' Liberal 'Lies'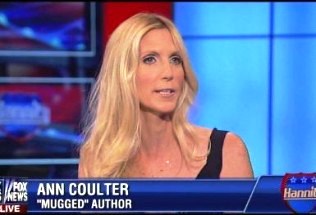 Sean Hannity brought on Ann Coulter for a segment tonight that seemed to be devoted to a gaffe President Obama made in Ireland, but Coulter quickly shifted to immigration reform, "the most important issue facing our nation" right now. Both she and Hannity slammed Republicans getting behind the bill, with Hannity calling them "suckers" and Coulter saying voters need to "punish" any Republican congressman who votes for the bill.


RELATED: John Oliver Tears Into GOP Over Immigration Reform: A 'Border Fence Built Out Of Ignorance And Spite'
Hannity and Coulter first piled on Obama for likening the separation of Catholics and Protestants in different religious schools to segregation and the Civil War. Coulter pointed out that last month, Obama spoke at an "all-black, all male college," which he didn't have a problem with, and concluded, "If your mission is to prove that Obama is an even worse president than Jimmy Carter, mission accomplished!"
But before the Obama bashing could go much further, Coulter quickly pivoted to immigration. She said that a lot of TV hosts are misleading the public on the bill, and slammed Republicans supporting immigration reform for using the same "silly" arguments and "lies" the Democrats are to justify the bill's passage. Hannity couldn't fathom why securing the border first is such a controversial idea in the first place.
Coulter declared that the Democrats only want reform "because it will help them electorally," and smacked down the "idiot argument" that Hispanics will somehow "hate Republicans more" if this doesn't pass. Hannity said that "Republicans are suckers" because every time they work with Democrats to get a bipartisan piece of legislation done, the end result is something that contains a lot of Democratic ideas and very few (if any) Republican ones.
Coulter concluded that the Republicans cannot take up any bill that even mentions immigration until the Senate is majority-Republican. She sent a direct message to anyone with a Republican representative who backs the reform bill: "Punish them, voters."
Watch the video below, courtesy of Fox News:
—–
Follow Josh Feldman on Twitter: @feldmaniac
Have a tip we should know? tips@mediaite.com
Josh Feldman - Senior Editor