Hannity And Democratic Strategist In Fiery Exchange Over Who Is Politicizing Benghazi More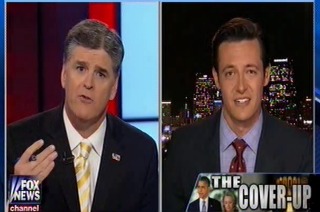 On Friday night's Hannity, the show's host and a Democratic strategist engaged in a heated exchange over whether the White House or Congressional Republicans were acting most in their own political interests regarding the Benghazi attacks. Hannity and the strategist went back and forth over which party has the most incentive to politicize Benghazi – the White House in an election year or Congressional Republicans like House Oversight and Government Reform Committee Chairman Rep. Darrell Issa (R-CA).

RELATED: Jay Carney On Benghazi Scandal: 'All Of This Is A Distraction From The Key Issues'
Sean Hannity began by asking Democratic strategist Mark Hannah if the edits and emails relating to the Benghazi talking points sounded to him like a cover-up.
"I think you think it sounds like a cover-up," he replied. "I don't know if you've ever been part of an inter-agency process of developing talking points, but this was led by the CIA.
"And Darrel Issa's investigation here — he is known by everybody in Washington as a really good attack dog," Hannah continued. "Nobody thinks he's this kind of watchdog public servant that's trying to get to, you know, a sober fact-finding mission here."
"You're not answering my question," Hannity said. Hannah proceeded to offer the sarcastic suggestion that President Barack Obama would have been most helped in his effort to win reelection last year by not scaring the public into thinking the terrorist threat was as strong as ever.
"I know you're liberal, but do you have a hard time hearing," Hannity interjected. "If you remove references to terror…"
"It was extremism that they removed references to," Hannah corrected.
"They removed all references to the truth," Hannity said.
Hannah said that the early draft talking points would have yielded too much operational information to America's enemies overseas. "You're full of crap," Hannity fired back.
Fox News Channel host Tucker Carlson said that the White House's effort to blame the CIA is baseless. He said that State Department Spokesperson Victoria Nuland, in emails, acknowledged that the talking points could be used by Republicans during the election cycle. This, Hannity said, amounts to a "smoking gun."
Further, the CIA does not engage in political calculations when they provide the executive branch with operational talking points. "The CIA does not do public relations," Carlson said. "So, to blame the CIA for setting public policy in Benghazi in the aftermath is absurd."
Watch the segment below via Fox News Channel:
> >Follow Noah Rothman (@NoahCRothman) on Twitter
Have a tip we should know? tips@mediaite.com