Hannity and Guests Agree: Obama Rodeo Clown Outrage is 'Biggest Batch of Race-Baiting Bunk'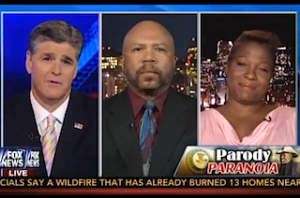 Sean Hannity continued his coverage of rodeo clown-gate Wednesday night, this time invited two guests to the show who both agreed the outrage was overblown. Hannity was particularly shocked to find himself agreeing with frequent sparring partner Jehmu Greene, saying, "Hell has frozen over tonight."
"It's ridiculous," Greene said. "The NAACP is out of their dang minds to think that this should be investigated by the Department of Justice. Surprise, surprise that I think this is way overkill." She added that she "loves" rodeo clowns, calling them the "epitome of distraction."
Columnist Erik Rush took things one step further, calling the uproar "the biggest batch of race-baiting bunk I've ever seen." He said it's nothing more than the NAACP trying to "stay relevant" and the political left trying to "keep old wounds open."
Greene did fight back a bit, saying it's not just liberals that "promote hypersensitivity," pointing to the backlash the Dixie Chicks received when they criticized President George W. Bush after 9/11.
And Hannity highlighted the "hypocrisy" he sees in terms of which stories the Obama administration chooses to comment on. He asked why Obama said the Cambridge police "acted stupidly" when they arrested Henry Louis Gates or said his son would "look like" Trayvon Martin, but hasn't addressed the recent school bus beating by three African-American boys. "It seems like selective morality."
"You cannot say the administration is responsible for this distraction," Greene responded. "We are responsible for this distraction." She said Obama only addressed the Trayvon Martin case when it "became the only thing that the media was talking about." If the coverage of the rodeo clown continues much longer, could we end up seeing Obama make a statement on that soon?
Watch video below, via Fox News:
[photo via screengrab]
—
>> Follow Matt Wilstein (@TheMattWilstein) on Twitter
Have a tip we should know? tips@mediaite.com