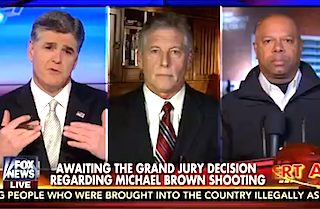 With a grand jury decision in the Michael Brown shooting case expected any minute now, Ferguson, Missouri is on edge and bracing for the possibility of violence. During his Fox News show last night, Sean Hannity discussed the situation with former LAPD detective Mark Furhman and correspondent David Webb, who was on the ground the Ferguson. All three agreed that if officer Darren Wilson is not indicted and protesters react violently, President Barack Obama and Attorney General Eric Holder will be partly to blame.
"The president has weighed in on this, Eric Holder's weighed in multiple times, even this week," Hannity asked Webb. "My question is, they weighed in without hearing any evidence in this case. Didn't they create in the minds of people that a specific decision would be reached here? And if that doesn't occur, aren't they responsible for creating that expectation and whatever violence may happen as a result?"
After Webb agreed with that premise, Hannity posed a similar question to Furhman, repeating that Obama and Holder, as well as Al Sharpton have "weighed in with no information," telling protesters to "stay the course" and wondering what they might mean by that.
Finally, Hannity asked a yes or no question of both his guests: "If, god forbid, something happens, and I pray it doesn't, does the president and Eric Holder, do they bear some culpability in whipping people's minds up here?"
"Absolutely," both guests replied.
Watch video below, via Fox News:
Since Hannity aired this segment last night, Attorney General Holder has released a video message in which he urged calm in Ferguson following the pending decision.
"History has shown us that the most successful and enduring movements for change are those that adhere to nonaggression and nonviolence," Holder said. "And so I ask all those who seek to lend their voice to important causes and discussions, and who seek to elevate these vital conversations, to do so in a way that respects the gravity of their subject matter."
Watch video below, via YouTube:
[Photo via screengrab]
— —
>> Follow Matt Wilstein (@TheMattWilstein) on Twitter
Have a tip we should know? tips@mediaite.com