Hannity And Herman Cain Clash With Juan Williams Over Limbaugh's 'Ashamed Of My Country' Comments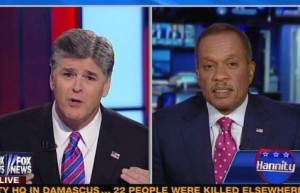 Sean Hannity tonight addressed Rush Limbaugh's comments from earlier today, in which Limbaugh said he is "ashamed of my country" for the first time. Hannity brought on Juan Williams and Herman Cain to break down Limbaugh's comments. Hannity and Cain agreed, while Williams found it odd that conservatives like them who are generally unashamed to admit their love of America are now singing a different tune.
RELATED: Limbaugh Goes Off: 'For The First Time In My Life, I Am Ashamed Of My Country'
Hannity said he agrees with Limbaugh that it's "embarrassing" how many Americans are below the poverty line and how much of a "demagogue" President Obama is. Cain said leaders like Obama continue to insult people's intelligence and care more about popularity than policy, accusing the Obama administration of "outright deception." Williams differed from Hannity and Cain, saying that he thought guys like them and Limbaugh love America and would continue to love it no matter who is president. Williams appropriated a conservative talking point to suggest if they want to blame America first, they might as well move out to California and live amongst the Hollywood liberals.
Hannity brought up the infamous comments by Michelle Obama saying in 2008 she is proud of her country "for the first time" to draw a parallel to what Limbaugh said. Williams explained that Hannity was missing the point and criticizing the reaction of some like Limbaugh to start "turning on each other." When Hannity accused the Obama administration of lying, Williams interrupted and demanded to know exactly what Obama is supposedly lying about.
Cain told Williams that the Obama administration "ignores the debt" and the rising unemployment rate, calling it a national embarrassment. Williams pointed out how the cuts that will result from the automatic sequester will ultimately hurt the country, to which Cain said that Williams is "dead wrong" and not accurate on what contributed to the stagnating economy.
Watch the video below, courtesy of Fox News:
—–
Follow Josh Feldman on Twitter: @feldmaniac
Have a tip we should know? tips@mediaite.com
Josh Feldman - Senior Editor