Hannity And His Panelists Have Yelling Match Over Whether White House Is 'Covering Up' Events In Libya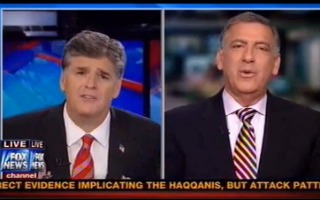 On Friday, Fox News' Sean Hannity invited guests Joe Trippi and Fox News legal analyst Peter Johnson, Jr. onto his show to discuss emails indicating that the U.S. State Department turned down security requests made by officials at the U.S. consulate in Libya prior to the violent attacks that resulted in the deaths of ambassador Chris Stevens and three others. Hannity opined at the top of the segment that this email exchange — in addition to other documents, including the late Ambassador's personal journal — prove that the U.S. government failed to protect its own people and is now attempting to cover it up.
Trippi felt that it didn't matter whether the attacks on the consulate were planned or spontaneous, prompting Hannity to loudly state that "it matters if the President tells us something that is factually inaccurate."
"No, it doesn't, Sean!" Trippi replied. "The fact is, security wasn't there, there wasn't enough security. Why wasn't it there?"
"It matters if the President lies," Hannity interjected.
"When is the President going to own up to this?" asked Johnson. "When is the Secretary of State going to own up to this?"
"When the investigation is completed," Trippi answered, the two men talking over one another.
"This is part of a pattern of deception," Johnson later told Hannity, as Trippi chalked his comments up to little more than conspiracy theories and adding that the White House is making the right decision by waiting until they complete an investigation on the what happened in Libya before saying anything more.
"Joe, wait a minute. An investigation? This was a terrorist attack!" Hannity shouted.
Have a look, via Fox News:
Have a tip we should know? tips@mediaite.com