Hannity And Michelle Malkin Bash Obama For White House Party, Malkin Calls Obama 'Party Animal In Chief'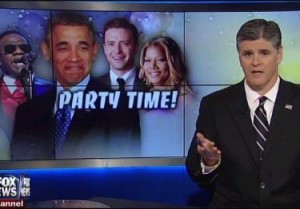 Michelle Malkin joined Sean Hannity tonight to express her outrage with the White House over a lavish party being held next week, with guests like Justin Timberlake and Queen Latifah. They both called out the White House for spending money on such a gala affair only weeks after warning of the devastating consequences of sequestration.
Hannity amusedly contrasted the White House opening its doors to celebrities but keeping it closed to the rest of the public. He also called out the president and vice president for taking eight vacations so far this year, in spite of the administration's fearmongering about the devastating, wide-ranging effects of sequestration. Malkin derisively called Obama the "party animal in chief," saying that on the one hand the administration has been singing some R.E.M. to the public but privately indulging in some LMFAO.
RELATED: Krauthammer To Hannity: Obama Okay With Sequester So GOP Gets Blamed And 'Caves' On Taxes
Malkin called the party a "slam in the face of taxpayers" and government workers who are concerned about their jobs. Hannity wondered if this is simply the kind of fun, lavish lifestyle the Obama family is used to. Malkin was amazed that people haven't already caught on to the "hypocrisy and sanctimony" of the White House.
Hannity also brought up the case of a Rutgers basketball coach who got fired after a video was released showing him shoving and yelling at his players. He admitted he was a fan of "old-fashioned discipline," with Malkin citing this as an example of liberals selectively deciding when to call out hate speech.
The segment then bizarrely wrapped up with Hannity and Malkin reminiscing on how they used to get physically disciplined by their parents.
Watch the video below, courtesy of Fox News:
—–
Follow Josh Feldman on Twitter: @feldmaniac
Have a tip we should know? tips@mediaite.com
Josh Feldman - Senior Editor