Hannity And Michelle Malkin Tear Into Obama Deputy Campaign Manager: 'Shameless Lying Liar'
Hannity, Malkin Tear Into Obama Deputy Campaign Manager: 'Shameless Lying Liar'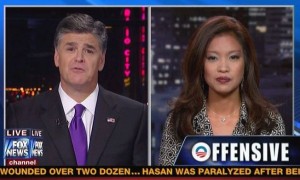 Michelle Malkin sat down with Sean Hannity today for a segment that was focused on how much of a horrible liar they believe Obama deputy campaign manager Stephanie Cutter is. Reacting to Cutter saying that women are "not really concerned about what's happened over the last four years," Hannity ripped into Cutter for the statement, while Malkin referred to her as a "shameless lying liar."
RELATED: Obama Campaign Manager: Women 'Not Really Concerned' With Past 4 Years, More Concerned About Future
Hannity was set off by Cutter's most recent statements about the female vote. Cutter said on NPR that women are "not really concerned about what's happened over the last four years," but instead "really want to know what's going to happen in the next four years." Hannity reminded viewers that Cutter denied having any knowledge of the story of Joe Soptic, the man who faulted Mitt Romney for his wife dying of cancer in a pro-Obama Super PAC ad, but the very same story was told by Soptic on a conference call months earlier that Cutter sat in on.
Hannity and Malkin were amazed that Cutter still has a job on the campaign. Malkin called her a "shameless lying liar" and compared her to Pinocchio, before tearing into Cutter's suggestion that women shouldn't be focusing on Obama's record in the past four years. Malkin said that women are as every bit as concerned about the economy as everyone else. She pointed the blame at the Democrats for conducting the "War on Women" that they have been accusing Republicans of waging for months.
Hannity asked Malkin how she would like to see Mitt Romney handle himself at the upcoming presidential debates. Malkin said he should take on the "rigged game" and push back against the "lapdog liberals" chosen to be debate moderators. She advised Romney to call into question the neutrality of the questions asked of him at the debates, like his former Republican rivals were.
Watch the video below, courtesy of Fox News:
—–
Follow Josh Feldman on Twitter: @feldmaniac
Have a tip we should know? tips@mediaite.com
Josh Feldman - Senior Editor