Hannity And Panel Go Off On MSNBC For Edited Heckling Video: NBC Is An 'Extension Of The White House'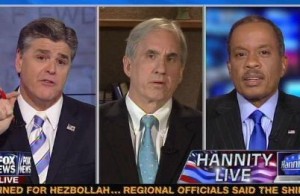 Initial reports of a Connecticut hearing on gun violence claimed that a father of one of the Sandy Hook victims was heckled during his testimony, but video of the testimony shows the people only piped up after the father asked an open question. MSNBC ran an edited version of the exchange earlier today, which led to Sean Hannity going off on the network for deceptive editing tonight. He and panelist David Limbaugh got heated with Juan Williams over MSNBC's editing, with Hannity declaring that NBC News is an "extension of the White House agenda."
RELATED: Fox's The Five Goes After MSNBC For Edited Video Of Sandy Hook Father Being 'Heckled'
Hannity asked if MSNBC's "purposeful editing to alter the context," which also infamously plagued NBC News after airing an edited 911 call by George Zimmerman last year, constitutes libel. Limbaugh admitted he was not sure, then declared that the "mainstream liberal media no longer reports the news, they try to influence the news." He blamed the media for creating an "alternative reality" that downplays the nation's real problems and stirs up fake outrage.
When Limbaugh went into a tirade against President Obama, Williams laughed and told Limbaugh he was sounding "so over the top." He said that while the Zimmerman tape editing was a clear case of irresponsibility, he thought the Connecticut father was just using a "rhetorical device." Hannity disagreed, saying it genuinely seemed like he wanted a question, and by editing out the large pause beforehand, MSNBC allowed people to "draw a different conclusion." Limbaugh added that the liberal media is just trying to portray gun owners as "racist, mean-spirited, and violent."
Hannity found it "disgraceful" that NBC News now appears to be operating as nothing but an "extension of the White House agenda." Limbaugh doubted that Obama could have won if not for "distortion" on the part of the liberal media. A frustrated Williams shouted, "David, the election's over!" He said that the American people are smart enough to be able to judge a candidate outside any kind of media filter.
Watch the video below, courtesy of Fox News:
—–
Follow Josh Feldman on Twitter: @feldmaniac
Have a tip we should know? tips@mediaite.com
Josh Feldman - Senior Editor