Sean Hannity: Bill Maher Is An 'Angry, Bitter Liberal' Pushing An 'Obama Ass-Kissing Agenda'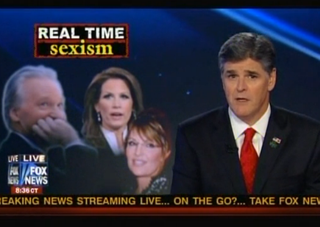 Sean Hannity is making it abundantly clear he is not covering Bill Maher's transgression on Real Time last weekend just to have something to talk about. Hannity dedicated a second segment on his program today to Maher's comments about Sarah Palin and Rep. Michele Bachmann last Friday, noting that he had contacted the National Organization for Women and they were prepared to respond. But in the meantime, Hannity had a bone to pick with "angry, bitter" Bill Maher.
Hannity began the segment asking why there were no cries for boycotting Maher or outrage on the left against his "shockingly offensive rhetoric," and a recap of the comments in question. To comment, Hannity invited Penny Nance, head of the group Concerned Women for America, who agreed with Hannity that the comments were way out of line. Unlike last night, Nance, Hannity, and contributor Tamara Holder kept their argument strong by avoid personal attacks, only going as far as to call him hateful. Nance argued that "the only being [Maher] hates more than conservative women is God" and that "he never apologized for it… and at some point he has to be held accountable for it." Holder countered that Maher was "a comedian" and "an educated man" looking for a joke, and scoffed that Hannity and Nance were "acting like calling someone a nincompoop is so offensive."
Hannity countered with the argument that Maher was the beneficiary of a double-standard that had stung Don Imus but, furthermore, that he was not a comedian. "He's an angry, bitter liberal who is advancing his liberal commentary," Hannity argued, alternatively calling that commentary an "Obama ass-kissing agenda." Given how committed Hannity seems to have gotten to this story, expect a statement by the National Organization for Women to only spur another tirade against Maher and his over-the-top rhetoric.
The segment via Fox News below:

Have a tip we should know? tips@mediaite.com