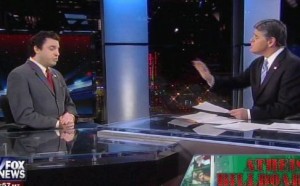 Sean Hannity squared off with American Atheists president David Silverman tonight over an ad put up by his group in New York City reading "keep it merry, dump the myth," the latter being a reference to Jesus. Hannity grilled Silverman on why he seemingly wants to keep the "Christ" out of Christmas, while Silverman insisted the ad is meant as a way of targeting atheists who go to church every Christmas because they believe it's tradition or their families pressure them into it.
RELATED: Bill O'Reilly Confronts Atheist Leader And His 'Merry Band Of Fascists' Over The War On Christmas™
Hannity first asked Silverman if his group ever does ad campaigns against other faiths besides Christianity. Silverman cited billboards American Atheists have put up going after Islam and Judaism, and said of the former that the constant Islamic demands for people not to ridicule their phrase are a form of terrorism.
Hannity summed up atheist philosophy as "you believe nothing can come out of nothing," and criticized Silverman for wanting to "insult" and "attack" people during Christmas. Silverman made it clear they are criticizing the faith, not the followers, pointing out there are many atheists who call themselves Christians and go to church because they think it's an "integral part of Christmas."
Hannity told Silverman "you are too full of yourself" by thinking people care. Silverman insisted that people in these situations do care because they think they're alone, especially in families where they are pressured into going to church and professing belief in an "invisible magic man in the sky."
Watch the video below, courtesy of Fox News:
Have a tip we should know? tips@mediaite.com
Josh Feldman - Senior Editor