Hannity Clashes With Dem Strategist Joe Trippi Over Obama's Costly Africa Trip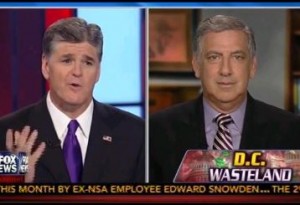 Sean Hannity was fired up tonight by the Obama administration spending millions of taxpayer dollars on vacations and unnecessary federal programs, including a State Department program protecting transgendered people that costs $450,000. He contrasted this and Obama's reportedly costly trip to Africa with the cuts to things like White House tours the administration made in the wake of sequestration. Democratic strategist Joe Trippi disputed the numbers Hannity was throwing out, though he did admit that perhaps the optics of Obama's trip were not ideal.
RELATED: Schieffer Grills Obama's Chief Of Staff About $60 Million Africa Trip: 'Worth It In Time Of Sequestration?'
Trippi shot down the outrage over Obama's Africa trip by reminding Hannity that the last time conservatives were outraged over the costs of a presidential trip, they were dead wrong. He did add, "I wouldn't have scheduled the trip right now." Hannity noted that the costs of Obama's Africa trip were published in The Washington Post, not exactly a conservative publication.
Trippi did defend Obama's trip by citing African economic growth and noting how George W. Bush made trips to Texas and Africa. "They went on safari!"
Jenny Beth Martin, a tea party leader, said that the president should have security, but "we can't afford this!" Hannity brought up the State Department transgender program, to which Trippi said everyone's rights should be protected.
Hannity went down the list from Obama's golf trips to costly vacations, especially at a time of sequestration and, specifically, when food stamp rates are too high. Hannity asked Trippi, "The optics of this don't bother you?" Trippi reassured him that they did, that this maybe isn't the best time for Obama to be taking a trip.
Watch the video below, courtesy of Fox News:
—–
Follow Josh Feldman on Twitter: @feldmaniac
Have a tip we should know? tips@mediaite.com
Josh Feldman - Senior Editor