Hannity Confronts Baltimore Activist: 'Is This the Type of Protest You Want to Be Part of?'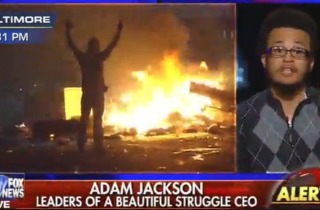 In between segments of Fox's Leland Vittert reporting from the Baltimore riots, the network's 10 p.m. hour was full of panel pundit discussions, anchored by Sean Hannity. One of those was a debate with Adam J. Jackson, a Maryland activist and CEO of Leaders of a Beautiful Struggle. As you might have already guessed, the conversation devolved into a shoutfest.
"Is this the type of protest you want to be a part of?" Hannity asked Jackson, as footage of burning looting debris played in the background.
"First and foremost, I'm not going to talk about the violence that people are talking about," Jackson replied. "This is a response to the violence of the Baltimore City Police Department. People talking about the fires burning in Baltimore, there's been fires burning of mass incarceration, racist police practices, so this is an outgrowth of that."
In response, Hannity noted that a majority of the city's police are minority race, suggesting that therefore there cannot be institutionalized racism.
"We're not talking about individual people who are racist," Jackson responded. "I'm talking about the elite class of politicians in Baltimore, people like Martin O'Malley who illegally arrested 757,000 black people."
When Hannity noted that O'Malley hasn't been the city's mayor in nearly a decade, the activist responded that "The genealogy of this very problem in Baltimore starts with people like him, the mayor, these laws, and public policy."
And then the conversation went off the rails, with Hannity asking Jackson whether violent protests are the way to fix whatever grievances the local community may have, and Jackson suggesting the host was focusing on violence to distract from long-standing issues with the police.
"I do not think violence is an effective strategy for justice," the guest eventually said, "but I will not moralize on black people."
And then Hannity ended the interview early.
Watch below, via Fox News:
—
Have a tip we should know? tips@mediaite.com