Hannity Confronts Kirsten Powers On Previous Night's Blow Up Over Obama Daughters' Vacations: 'I'm Hateful?'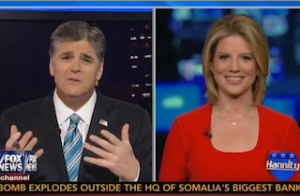 Last night, Fox contributor Kirsten Powers called Sean Hannity "insane" for going after President Obama's daughters' vacation. Tonight, she was back on the show to try to clarify her comments and discuss what Hannity is calling Obama's "sequester scare tactics."
Hannity tried to goad Powers into saying that the Obama administration "lied" about the sequester cuts that would need to go into effect, including comments by Homeland Security head Janet Napolitano about cutting border agents that ended up being unfounded. Powers would only go so far as to say Obama "exaggerated" about what the cuts would entail.
"In order to accuse them of lying I'd have to have the proof of that," Powers said. "If they knew for a fact that they would be able to move the money around," to avoid furloughing border agents, then, she said, "yes, that would be lie." When asked about other "lies" the president has told about Republicans, Powers once again resisted that characterization, saying, "unfortunately" he believes those things.
When he got the chance, Hannity changed the subject to the heated debate he and Powers had the night before. He first asked why she called him "hateful" before she corrected him, saying she actually called him "mean-spirited" for criticizing the federal spending that has gone towards vacations for Sasha and Malia Obama.
"I was surprised to hear you bring the daughters into it," Powers said, "and I just thought this would be an area you'd leave out of it and it did seem particularly mean-spirited to me." Hannity reiterated his objections to the vacations, but Powers wasn't changing her position, insisting that they have nothing to do with the sequester spending cuts. She ultimately ended the segment by telling him, "We're just not going to agree on this."
Watch video below, via Fox News:
—
>> Follow Matt Wilstein (@TheMattWilstein) on Twitter
Have a tip we should know? tips@mediaite.com