Hannity Debuts Breitbart Obama College Video Reveals "Controversial" Hug With Embattled Professor
Hannity Debuts Breitbart's Obama College Video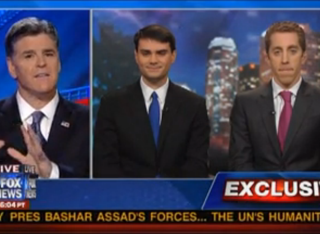 The video the late Andrew Breitbart promised of President Obama was delivered in snippets this morning– first by Buzzfeed, then by Breitbart's Big sites– but on tonight's Hannity, editor-in-chief of Breitbart.com Joel Pollak and contributor Ben Shapiro released the full tape– one held by Professor Charles Ogletree but released in a presentation after the 2008 election, where the professor is clearly heard saying he hid it during the election.
RELATED: Breitbart Editors Preview Obama College Video With Hannity
Sean Hannity began the segment showing the videos released this morning and explaining the context, before showing Ogletree admitting to intentionally editing and then covering up the shot of President Obama hugging Professor Derrick Bell. "I hid this during the 2008 campaign– I don't care if they find it now!" Ogletree tells the audience to laughter, as he plays the clip.
Pollak and Shapiro then began to explain the context of the clip itself, and who Bell is and why it matters. Describing him as the "Jeremiah Wright of academia," Pollak explained he had radical and controversial beliefs that eventually cost him his job, including penning the sci-fi thriller Space Traders, where "white Americans would sell off black Americans to aliens to pay the national debt."
For Hannity, the takeaway was that "President Obama always gravitates towards the most radical people," to which both agree, but Shapiro expands that "Ogletree's cover-up was very real," and if Andrew Breitbart's legacy was anything, it was that "we weren't going to decide what was a story." He noted that the video was open to the media in 2008, but declined as a story.
The Hannity exclusive (in two parts) via Fox News below:

Part II:
Have a tip we should know? tips@mediaite.com