Hannity Destroys Occupy Organizer In Fiery Segment About Movement's Violence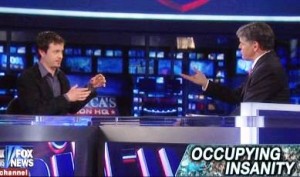 On Thursday night, Sean Hannity sat down with Harrison Schultz, an Occupy Wall Street organizer. The segment was confrontational right off-the-bat — with Hannity questioning Schultz about the violence in the movement, and eventually leaving nothing unsaid, offering a fiery "suggestion" to Schultz.
Schultz started off the segment by thanking Hannity for letting a "dirty hippie" come in and express his views, which didn't sit well the the host, who pointed out he never said anything about being dirty or a hippie. From there, they moved on to Schultz saying Hannity made fun of his "friends."
Hannity asked, "The ones having sex in public, doing drugs and defecating on cars and breaking store windows, cursing out police approximately all of that? You mean those guys?" The following conversation consisted of Hannity asking questions and not quite getting answers.
He asked Schultz why "a special, protective rape-free zone tent" was set up following the rape that occurred. Hannity asked Schultz for evidence, to which Schultz said The New York Times had reported that the NYPD sent rapists to the park. Schultz said it was a cynical, effective tactic by the authorities. Hannity further asked whether all the violence was a police conspiracy.
We then learned that Schultz is 29, and formerly worked as a a business intelligence analyst, but was laid off. He is currently in graduate school, paid for by student loans. Eventually, the segment came back to a point where Hannity began: what Schultz's issue is with capitalism. He noted that he saw many protestors with Macs and iPhones. This is capitalism, he said, "You create goods or services that people want, need and desire. Right?" The Occupy movement fits the model, he said.
Schultz said the model is broken. Asked why, he said, "it is failing people, such as myself." Hannity then told him: "Maybe if you weren't spending your time with the quote, homeless people who were brought in by the police to rape people, maybe you could have been out looking for a job?"
Hannity pursued his point about Schultz, and those like him, wanting things for free. "Who is going to pay for your house, car, dental care, health care, education, who pays for that?" he asked. Schultz replied, "Nobody! It's free."
"You don't work, you get free money for school, and you're fucking complaining and whining," Hannity started, before finally exploding, offering Schultz a "suggestion":
You are 29 years old. Stop wasting your time at Occupy Wall Street. Here's a novel concept, get up at 6:00 a.m., shovel coffee down your throat. Hit the pavement, find a job, stop whining, stop complaining, stop blaming and get your ass out of bed, like everybody else in America, and get to work. How does that sound?
Schultz said to give him a job and he'd go to work. About jobs like a dishwasher or cook being beneath Schultz, Hannity asked, "Hanging out with with rapists, people having sex in public is more fun?"
"It's more dignity in that than hanging out on a show like this with you," he replied.
Take a look, via Fox News:

This is an opinion piece. The views expressed in this article are those of just the author.