Hannity Destroys Sharpton Over Racial 'Assassins' Remarks: 'He Knows Better Than That!' 'I Deserve An Apology!'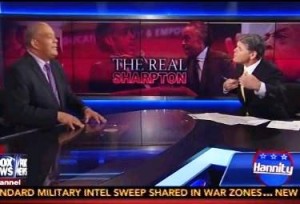 Sean Hannity tonight fired back at some of the commentary leveled at him by MSNBC host Al Sharpton in the ongoing cable news battle over racism in America. He used Sharpton's past statements that have offended other groups to suggest the reverend has no ground to stand on, and tore Sharpton apart for a guest on his radio show calling Hannity and other TV pundits "professional assassins of African-Americans." Hannity shouted, "He knows better than that, and I deserve an apology!"
RELATED: Al Sharpton Celebrates Limbaugh/Hannity 'Radio Shake-Up' As A Win For Obama's Agenda
The National Action Network's Michael Hardy told Hannity people like Sharpton "felt that you and others sort of tried to change the script" on the race conversation by talking about black-on-black crime in Chicago and other things. He acknowledged it's important, but "it's not necessarily the same discussion as having the discussion about exactly the effect of Trayvon Martin" on the national discourse.
Hannity demanded an apology from Sharpton for Earl Ofari Hutchinson basically calling him a racial "assassin" on Sharpton's radio show. When Hardy argued Sharpton didn't actually say it, Hannity insisted, "It was on his show! He knows better than that, and I deserve an apology!"
Hardy shot back at Hannity with a wry comment.
"If Reverend Sharpton an apology for everyone who's been a guest on your show–said something outrageous about him–you guys would be apologizing to each other every day!"
Tea party activist Niger Innis wanted to know who else Hutchinson considers to be a racial assassin, wondering if he would say the same of CNN's Don Lemon (for the record, he did). He said the real issue no one is talking about is "the 50 Trayvon Martins that are killed every week… by other young black men," stating that "there's a genocide going on in our communities."
Hardy insisted there is plenty of discussion about these issues, but Hannity insisted the "disparity is startling" and directly asked Hardy, "You've known me for years. You don't think I care about those kids? You know better!"
Watch the video below, via Fox News:
—–
Follow Josh Feldman on Twitter: @feldmaniac
Have a tip we should know? tips@mediaite.com
Josh Feldman - Senior Editor