Hannity Doesn't Agree With #FireColbert: 'If You Don't Like Him Change the Channel'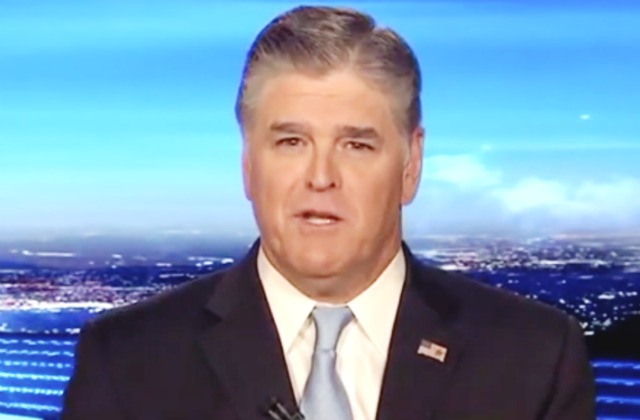 I don't think it would come as a shock for you to learn that Sean Hannity is not a fan of Stephen Colbert's. But the Fox News host tweeted his opposition to the #FireColbert Twitter trend.
#FireColbert trended last night after some outrage over the Late Show host's massive anti-Trump rant on Monday night, in which he said, "The only thing your mouth is good for is being Vladimir Putin's cock holster."
Now, it wasn't just people on the right bothered by what Colbert said. Vox's headline on the rant was "Stephen Colbert tried to insult Donald Trump. He made a homophobic comment instead."
Colbert got similar backlash years ago back when he was hosting The Colbert Report for a joke he made (and tweeted) that got #CancelColbert trending.
There have been some conservatives online disagreeing with the aims of #FireColbert, and now Hannity has joined the conversation:
I will NOT support #FireColbert. I am vs ALL BOYCOTTS. He is a horrible human being, but if u don't like him change the channel.

— Sean Hannity (@seanhannity) May 3, 2017
Boycotts, demands to fire people who make political comments you disagree with, this is what the left is doing to conservatives. #FreeSpeech https://t.co/li7yovTKJn

— Sean Hannity (@seanhannity) May 3, 2017
He made the same point on his show last night (video below), saying, "You know how I'd boycott Stephen Colbert? It's called watching Jimmy Fallon… We don't do this to them. We're far more open-minded."
Hannity has recently been decrying liberal media "fascism" for what he described as a systematic attempt to silence conservative pro-Trump voices.
[image via screengrab]
— —
Follow Josh Feldman on Twitter: @feldmaniac
Have a tip we should know? tips@mediaite.com
Josh Feldman - Senior Editor