Hannity Gives 'Lots Of Credit To Obama' For 'Gutsy Choice' That Led To Bin Laden's Killing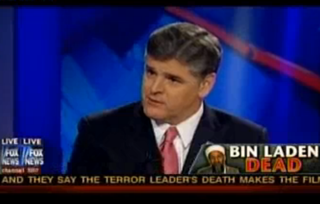 With one prominent exception, the usual anti-Obama suspects embraced the news of the military's success at killing Osama Bin Laden yesterday, and Sean Hannity was no different. Opening his program with former NYC Mayor Rudy Giuliani tonight, he gave the President "lots of credit" for being "gutsy" and even went as far as to call it "the opposite of what candidate Obama said he would do," which must be a high compliment.
Giuliani's comments opened the show, and he expressed a "vindication and satisfaction that is really hard to describe" upon hearing the news. "He deserved to die," he said frankly, "can't say that about many people." He even tried to find a silver lining to the fact that the death was a decade coming: "when it takes this long, you understand it better." Asked about the methods used to find the information– interrogation techniques Hannity vocally supports– Giuliani agreed that "unfortunately, you need these intense interrogation techniques to get information." What he didn't fully approve of? The celebrations in the streets once the news broke. "This is not a time to celebrate," Giuliani noted, receiving the cheers with "mixed feelings."
As to the operation itself, Hannity spoke more vocally: "We've got to give lots of credit to Obama," he noted, calling it a "gutsy choice not to drop a 2000-lb bomb but send those guys in." That said, Hannity emphasized that "without the interrogation, he wouldn't have had the intelligence to make the decision," and encouraged the White House to release photos of the dead body for confirmation. Somewhat confused with President Obama's performance, he noted that using interrogation techniques to get information and kill bin Laden in Pakistan is "almost the opposite of what candidate Obama said he would do" (actually, as Lawrence O'Donnell pointed out today, the Pakistani mission was almost verbatim what candidate Obama said he would do, but the positive sentiment from Hannity still stands).
The segment via Fox News below:

Have a tip we should know? tips@mediaite.com