Hannity Goes After 'Stupid Liberals,' Tries to Unite Establishment and Tea Party at CPAC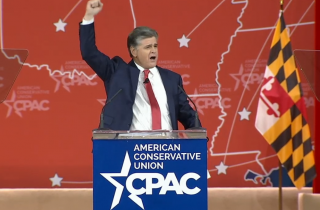 Fox News star Sean Hannity took the CPAC 2015 stage by storm, railing against "stupid liberals" in a speech that clearly energized the room full of conservatives.
Hannity began his remarks with something of a stand-up routine, throwing footballs into the crowd and asking for a call-and-response polling on each possible 2016 Republican candidate. Gov. Scott Walker, Sen. Rand Paul, and Sen. Ted Cruz received the loudest applause. Perhaps even more notably, upon mentioning their names, Govs. Jeb Bush and Chris Christie both received boos.
The Fox host also turned heads while setting up a joke about personal responsibility with this Biden-esque line: "I have x-ray Fox vision and I can see some young women — you don't even know it yet but you're pregnant. But it's not your fault!"
When Hannity got serious, he used his allotted time to call upon the so-called "establishment" and "tea party" wings of the Republican Party to unite to "fundamentally transform" the United States "back to the great country it was." This sentiment stands in slight contrast to his fellow radio host Laura Ingraham who, earlier in the day, railed against the GOP's establishment wing as being shadowy "elites" who will destroy the party.
The crowd was initially skeptical about his intra-party bridge-building rhetoric, but he insisted that he will convince everyone by listing off the areas where everyone allegedly agrees: Debt is bad, energy independence is important, school choice is a must, and the American border should be secured immediately.
Hannity offered his radio and television shows as a platform for any and all Republican candidates to face questions so that conservatives can "dig deep" and make an informed decision about who to select for a 2016 run possibly against Hillary Clinton.
Watch the full speech below, via CSPAN3:
— —
Have a tip we should know? [email protected]