Hannity Guest Actually Finds A Way To Defend Weiner: 'My Mayor Is Not My Husband, Sean!'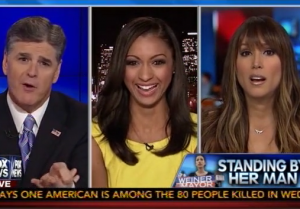 If you were waiting for someone in the media to actually come out and defend Anthony Weiner, wait no more. Eboni Williams did just that on Sean Hannity's show Thursday night. She told a stunned Hannity that New York needs a mayor who's good on the issues, like Weiner, and that his private life is and should be completely separate from his political life. She said, "My mayor is not my husband, Sean!"
Leeann Tweeden found no issue with Huma Abedin staying with her husband, but firmly declared that Weiner should absolutely not be running for political office, especially to be the mayor of New York City, with all this hanging over his head and other parts of his body. Hannity couldn't believe anyone would want a mayor with "impulse control issues" like, say, taking pictures of his penis and sending them to women.
RELATED: Chop Chop: The Five's Beckel Shares Somewhat Disturbing Suggestion For Weiner's Wife
Williams responded by saying "the right guy for the job" is someone like Weiner, who she touted as an advocate for gay rights, abortion, and the middle class. Hannity interjected to ask her how she could possibly overlook his sleaziness and see him as a good leader. She replied, "I think that's separate and apart, Sean, from his ability to govern."
She admitted that she'd have an issue if her husband ever did that, but explained why a politician doing it isn't that big of a deal.
"My mayor is not my husband, Sean! My mayor is my governor–you know, someone who is in charge of governing, you know, for the well-being of his constituents."
Tweeden shot back that Weiner was willing to lie so baldly and repeatedly to his family and the voters beforehand, the latter of which is the big reason why he absolutely cannot be running a city. Hannity likened Weiner to one of those old fashioned "flashers in their raincoat," and while Williams agreed that it's "creepy" behavior, she insisted that politicians aren't "saints" or "religious leaders," but instead human beings with faults.
Hannity confronted Williams about how she would feel if Weiner sent dick pics to her daughter. She said she would not like that at all. Hannity couldn't follow the logic, saying, "You don't want him dating your daughter, you wouldn't marry him, but he's okay to be your mayor." She stood by her position and told Hannity they need to examine "the totality of the circumstances."
Watch the video below, via Fox News:
—–
Follow Josh Feldman on Twitter: @feldmaniac
Have a tip we should know? tips@mediaite.com
Josh Feldman - Senior Editor