Hannity Guest Bill Cunningham Erupts At Democrat Tamara Holder: 'Know Your Role And Shut Your Mouth'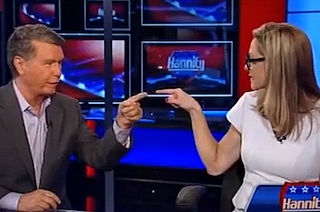 On Sean Hannity's show Thursday night, an argument over whether Attorney General Eric Holder committed perjury exploded between guest Bill Cunningham and Fox Analyst Tamara Holder (no relation to Eric).
Cunningham, incensed over what he felt was Eric Holder's consistent mendacity, began screaming and jabbing his finger at Tamara Holder, who was sitting right next to him.
"You are judicially challenged and you're one of the stooges of the left that will always be there to excuse away criminal behavior," he said to her. "You suffer from Bob Beckel-itis, which is an incurable fatal condition of liberalism that caused people like Eric Holder to be the consulary of Barack Hussein Obama."
"I really hope that when you speak to a judge, you don't point your finger in the person's face the entire time," Holder said, jabbing a finger right back at him. "Your finger does not make your point."
"Who's finger is in my face right now?" Cunningham asked.
"Mine, because I'm telling you to shut up."
"You shut up!" Cunningham responded. "Know your role and shut your mouth."
This caused some ooohs from Hannity's crew. The host attempted to regain control of the segment, but the two went at it again moments later.
"[Eric Holder's] like a piano player in a horror house, not knowing what's going on on the second floor," Cunningham said. "Let's face it, Tamara, he is a stooge man for the radical left."
"What is your obsession with stooges?" Holder asked. "Aren't stooges like little elves?"
"I'm sitting next to you!" Cunningham said, again drawing some ooohs from the Hannity crew. "You're a liberal stooge, and an excuse monger for the Obama administration."
At this point Holder dropped her head, took a deep breath, and said, "Never mind."
"What are you going to cry?" Cunningham asked.
"No, I'm not going to cry," a newly-defiant Holder responded.
At the end of the segment, which Hannity seemed to want out of as much as anybody, he instructed the two to shake hands.
"I don't shake hands with trolls," Holder said.
Watch the entire contretemps here, via Fox News:
—
>> Follow Evan McMurry (@evanmcmurry) on Twitter
Editor's note: This post has been edited since its original posting – Jon Nicosia
Have a tip we should know? tips@mediaite.com