Hannity Guest Flips Out, Explodes At Juan Williams: 'Shame On You!' 'You're Embarrassing Yourself!'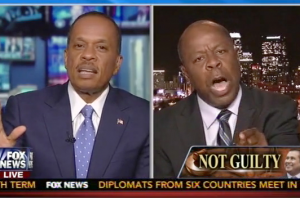 Radio host Leo Terrell has engaged in the occasional shoutfest on Sean Hannity's show from time to time, and tonight was only different in that Terrell happened to agree with Hannity for once. Terrell cranked it all the way up to 11 and practically blew up at Juan Williams over the George Zimmerman verdict and his claim that Williams was trying to promote "racial division." Terrell shouted at Williams that the case was decided fairly and compassion, as Williams put it, should not be factored in the decisions of a jury.
RELATED: Hannity Guest Goes Ballistic, Rips Out Earpiece Over Charge That Black Conservatives Have 'No Freedom Of Speech'
Williams argued that the verdict "lacks a sense of wisdom or compassion" for Martin's death and the suffering his parents have had to endure. He said he respected that prosecutors could not adequately prove their case, but insisted to Hannity that Zimmerman was the instigator just by following Martin. Terrell opened his comments by shouting, "Shame on you, Juan Williams, you're not a lawyer!"
Terrell went on a tirade against Williams and other pundits using this case to promote "racial division." He declared that the coverage is embarrassing for him as a black man, and accused Williams of trying to "hustle people to make money." Williams was utterly baffled by Terrell's comments, and tried to argue the compassion line again, but Terrell interrupted, "You don't do that in a criminal courtroom!"
Terrell told Williams, "You're embarrassing yourself!" and absolutely flipped out when Williams brought up the O.J. Simpson verdict. Terrell raised his voice and cried, "Don't bring up O.J.! This is not O.J.'s case!" Terrell said the verdict needs to be respected, adding "Leave it alone at that! Don't use this as a race case!"
Williams insisted that he wasn't. Terrell was equally adamant that he was. Terrell continued to charge Williams is trying to "make money on this," which WIlliams could only laugh at.
Watch the video below, via Fox News:
—–
Follow Josh Feldman on Twitter: @feldmaniac
Have a tip we should know? tips@mediaite.com
Josh Feldman - Senior Editor