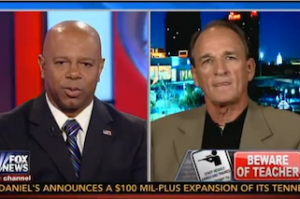 Thursday night on Hannity, guest host David Webb hosted a discussion with Pastor Perry Black, the administrator of a private Christian school in Arkansas that has put a sign in its parking lot informing any potential assailants that many of its teachers are armed, and Fox radio host Todd Starnes. In light of the averted tragedy this week at a Georgia elementary school, Webb asked his guests what more can be done to prevent school shootings.
Starnes, who said he's from the deep south himself, defended the private school's right to "engage" their Second Amendment right by advertising the fact that they have armed teachers on staff. "Unfortunately in this country right now we have a Department of Homeland Security that says the best way to defend yourself is to urinate on your attacker or flick rubber bands or paperclips at the guy," Starnes said. "Here we have a school that's decided, we're going to stand up, we're going to do whatever it takes to protect those children and those teachers."
For his part, Black said he was "a little bit shocked" at the "national attention" his school has received for its very public display. He said he wants to "take the opportunity to encourage our politicians to get out of conversations and bring solutions to the students in our schools."
"Sadly, we live in a country where, quite frankly, morality is gone," Starnes said later in the segment. "We're in an amoral society. And I think a lot of parents are finding the alternative, which is home school or private schooling, because they know their kids are going to get an education filled with traditional American values."
Curiously, there was no one on the panel arguing against bringing more guns into schools.
Watch video below, via Fox News:
[photo via screengrab]
—
>> Follow Matt Wilstein (@TheMattWilstein) on Twitter
Have a tip we should know? tips@mediaite.com