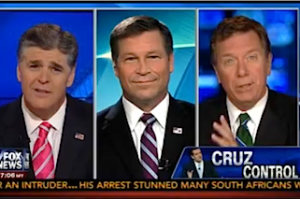 Sean Hannity opened his show Monday night with a look at Texas Republican Sen. Ted Cruz's decision to release his birth certificate and prove he's eligible to run for president. Hannity was joined by former Florida congressman, Republican Connie Mack and Democratic strategist Steve Murphy, who battled over just what this means for Cruz's political future.
Denying that he's a "liberal Birther," Murphy began by saying of Cruz, "His problem isn't he's from Canada, it's he's from Mars." Hannity quickly steered Murphy off that path and back to the question of "Birtherism," and its motives, asking if he believed that anyone who accused President Obama of being born in another country was "racist." While he couldn't say if there was "racial" motivation behind every single Birther, Murphy did see it was a major factor.
"If people now question Ted Cruz's birth certificate, he's produced it," Hannity said, getting to his point, "is that racial?"
Murphy argued that questioning Cruz's "eligibility" is different from questioning the birth certificate itself, which is not in dispute.
Mack said the different between Obama and Cruz on this issue is that the president "dragged his feet" on releasing the birth certificate, while Cruz "handled it the right way." Despite that fact, he predicted that the left will continue to "come up with some sort of issue that keeps them going to maybe raise money or to try to fill a void in their own policy issues."
On the issue of the left being "afraid" of Cruz, Murphy said, "I'm on the left and i hope he's the Republican nominee because he's a hater." Asked for an example he said Cruz "has said that being gay is evil."
Before moving on, Hannity broke the news that as of tonight Cruz has renounced his Canadian citizenship. So despite the senator's modesty about the presidential future, he's clearly taking all the precautions he can.
Watch video below, via Fox News:
[photo via screengrab]
—
>> Follow Matt Wilstein (@TheMattWilstein) on Twitter
Have a tip we should know? tips@mediaite.com